8-days
Safari
Easy
Access
Adapted
Vehicles
Pool (*)

Free
Wi-Fi (*)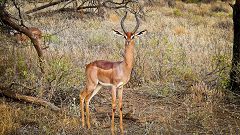 Orix. Females of impala are used to form into harems with their young. Eeach harem is surveilled by a single male who fights other males to defend his group and territory. This can be a very exhausting process and often after the breeding season, goes back to a bachelor herd for a period of time. © Paolo Cecchellero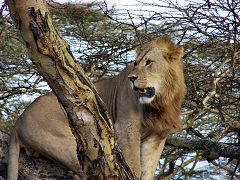 Baboon Cliff (Lake Nakuru). A lion on a tree, in Lake Nakuru National Park. © Yvonne Matiba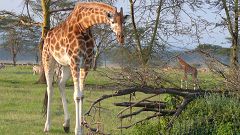 Lake Nakuru. Within the Lake Nakuru Park, are a number of Rothschild's giraffe, translocated for safety reasons from western Kenya © Paolo Cecchellero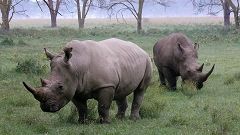 Lake Nakuru. Both the black and white species of Rhinoceros are in fact gray. The white rhino name is a corruption of the Afrikaans word for wide. The wide refers to the white rhino's broad upper lip that is designed for grazing. © Paolo Cecchellero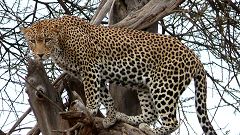 Leopard. Many reserves have all the big five - lion, leopard, elephant, rhino and buffalo - but it's not that easy to see them all, particularly leopard. Leopards are nocturnal, secretive and well camouflaged, but there are some reserves where they are more easily spotted than others. Samburu is one of these places.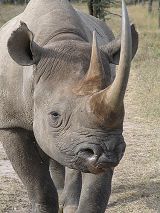 Sweetwaters Tented Camp. Ever since 1974, Morani, a tame black rhino, lives in its own sanctuary within Ol Pejeta Conservancy, located few kilometers away from the Sweetwaters Tented Camp. The young rhino was brought to the ranch after some poachers killed its mother. © Patty Chang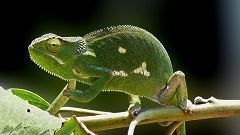 Thomson falls. At the belvedere opposite to the Thomson's falls some guys are used to playing around with chameleons, giving the tourists the opportunity to pose with them for a picture. Thomson's falls are located just few kilometers from Nyahururu, the highest town in Kenya ( 2.360 metres). © Paolo Cecchellero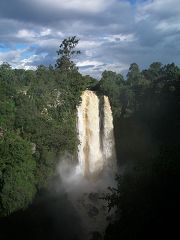 Thomson falls. Thomson's Falls originate where the Ewaso River plummets 75 metres into a boulder-strewn gorge discovered in 1880 by the explorer Joseph Thomson. © Paolo Cecchellero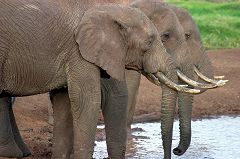 Hotel Treetops. A trio of Elephants at the waterhole just outside the Treetops. © Graham Dean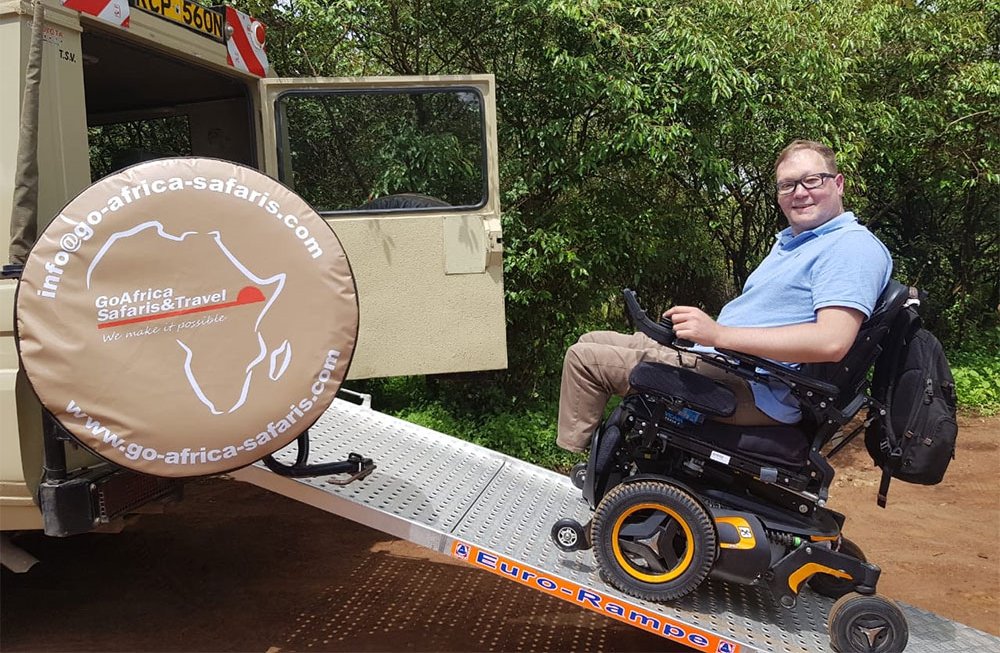 Land Cruiser ramp for wheelchair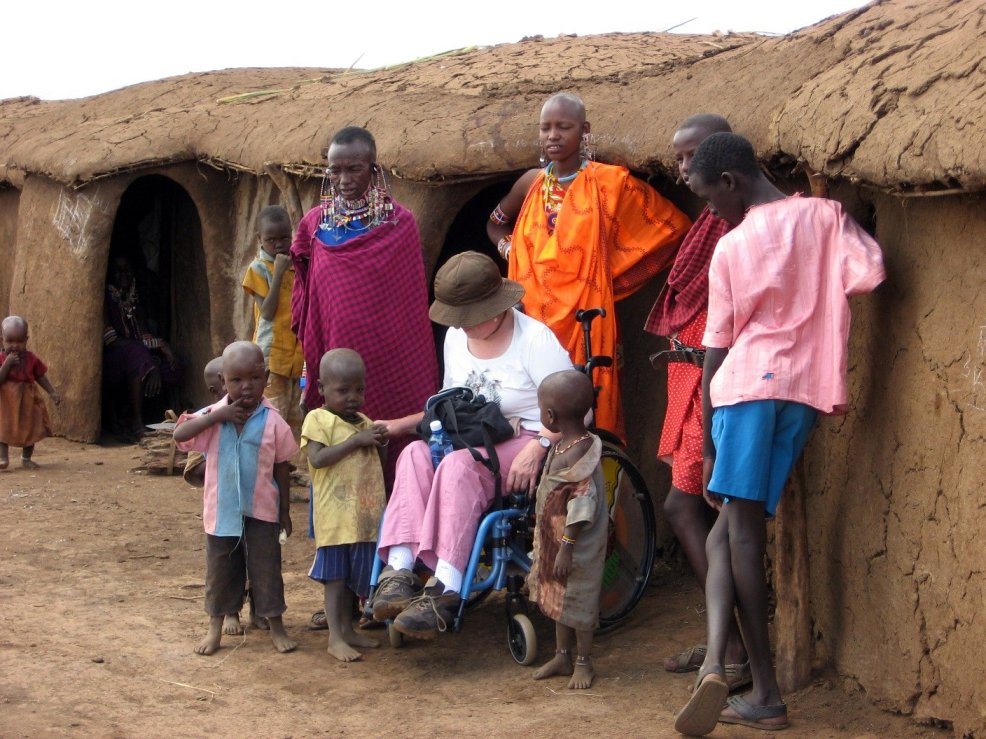 Renate visiting Masai Village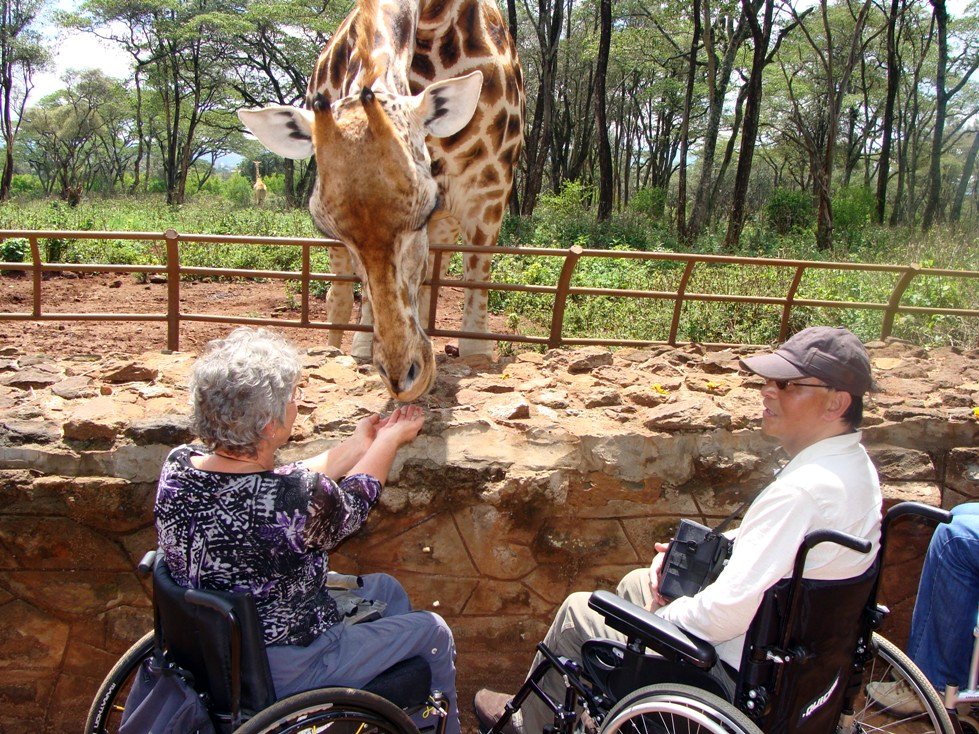 Giraffe Feeding Centre near Nairobi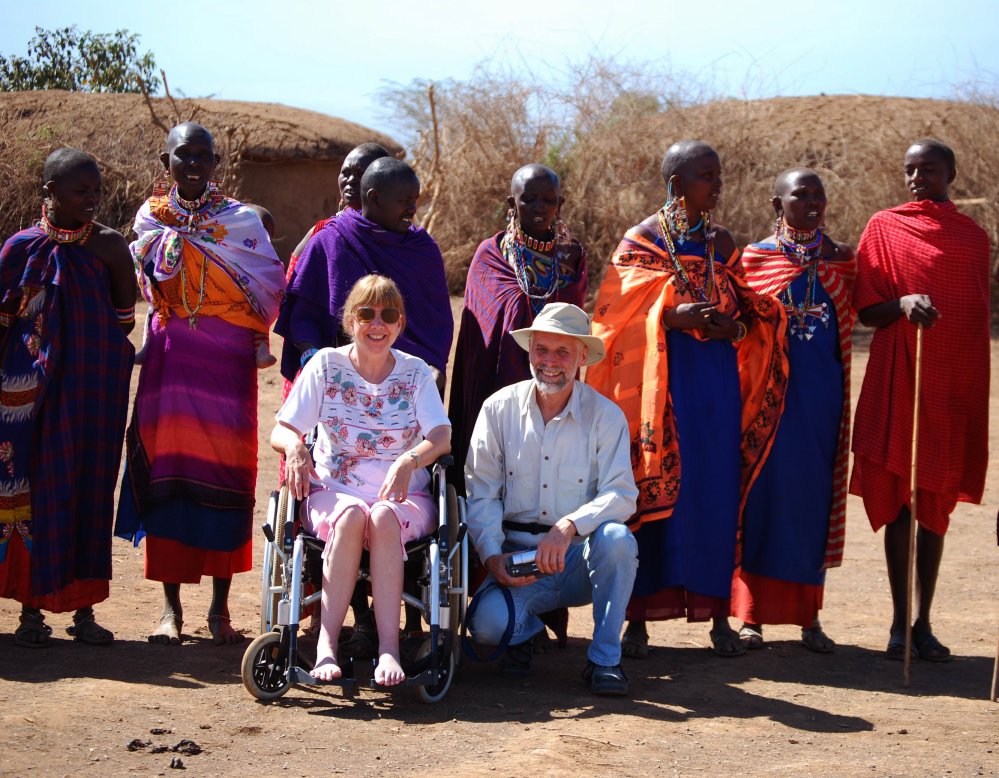 Kay and David visiting a Masai village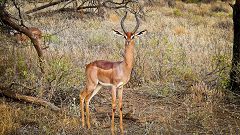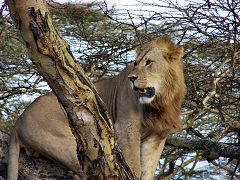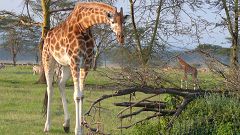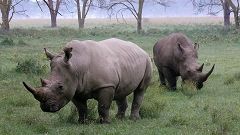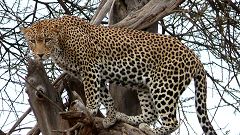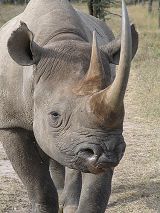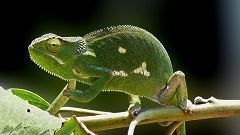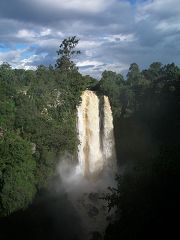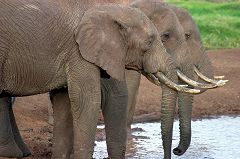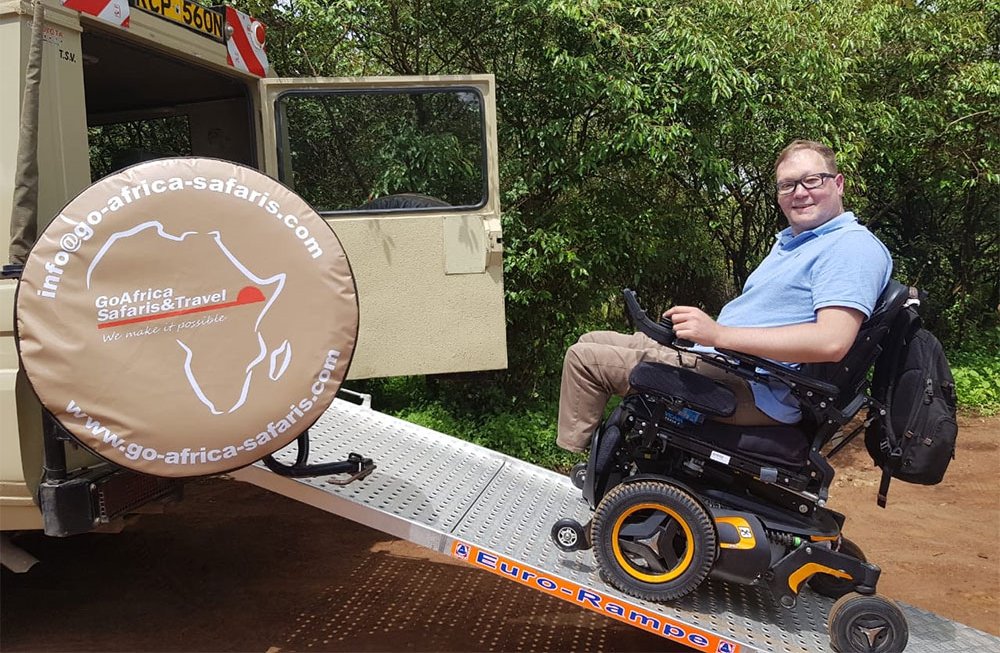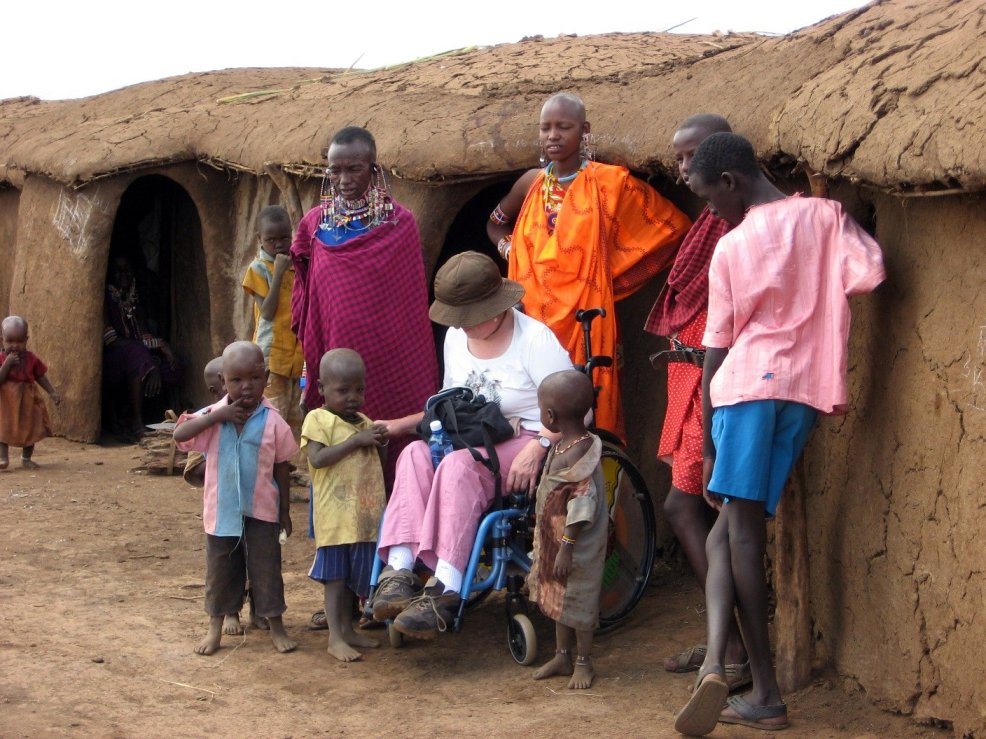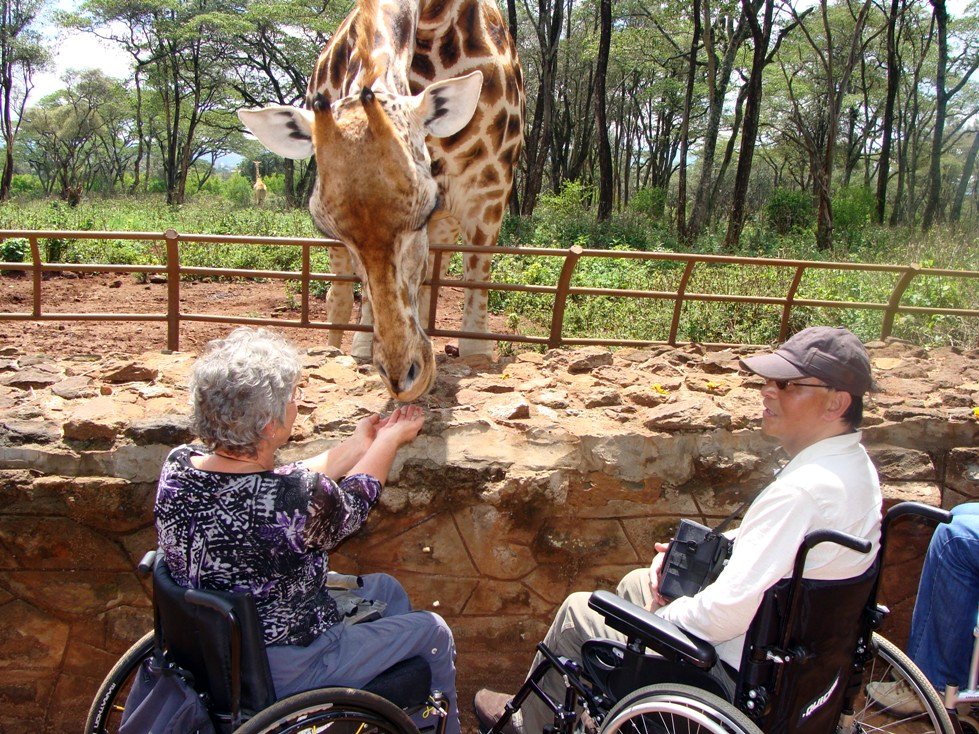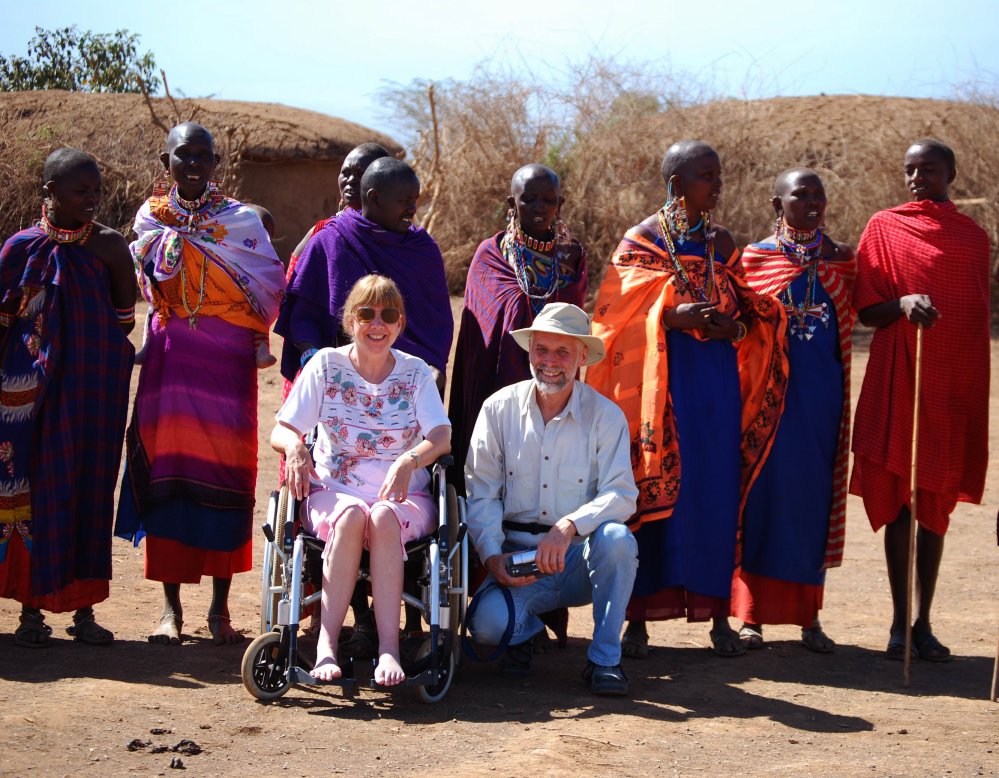 ---
Northern Nomadic Trail Safari (k3)
A 8-days safari through Samburu, Sweet Waters, Lake Nakuru and Masai Mara
Safari highlights
During Northern Nomadic Trail Safari (k3) you will driven to explore these superb african spots:
Programme
Day 1 - Arrival at Nairobi International Airport
Our driver-guide will pick you up! Transfer to your hotel for overnight. In case of a late arrival we will plan one of the new airport hotels, very convenient and comfortable.

Day 2 - Nairobi to Samburu National Reserve
After breakfast you start your safari with a visit to the northern part of Kenya , a drive of about 5 hours - (make a brief stop at the equator )to Samburu National Reserve. Samburu is a game-reserve on the banks of the Ewaso Ng'iro river. It is here where George and Joy Adamson raised Elsa the Lioness, made famous in the best selling book and award winning movie Born Free! Arrival on time for lunch - check in at the camp - afternoon game-drive - Dinner & Overnight Samburu National Reserve

Day 3- Samburu National Reserve
Spend the whole day at Samburu National Reserve with game-drives - return to the camp/lodge for lunch or enjoy a picnic on game-drive - Samburu is a very beautiful park and not so many visitors, here you will find the Gravy Zebra Gerenuk, Somali Ostrich, Reticulated Giraffe and the Beisa Oryx amongst predators like lion, leopard and cheetah. - Dinner & Overnight Samburu National Reserve

Day 4 - Samburu National Reserve - Sweetwaters Sanctuary
After breakfast depart for the Ol Pejeta Conservancy, located between the foothills of the Aberdares and Mount Kenya. The Conservancy hosts the largest black rhino sanctuary in East Africa. A visit to the Chimpanzee Sanctuary is also a great experience. Very good chance to spot the Big 5 here too! - arrive at the Ol Pejeta Conservancy around lunchtime, check in at the Sweetwaters tented camp - afternoon game-drive - Dinner & Overnight Ol Pejeta Conservancy

Day 5 - Sweetwaters Sanctuary
Spend the day at Ol Pejeta with early morning and afternoon game-drives. Today you will also visit the Rhino Sanctuary, Najin and Fatu, the last northern white rhinos in the world were moved to Kenya from the Czech Republic in 2009 and live in a 700-acre northern white rhino enclosure. You will visit with a ranger and learn more about their history , what it takes to protect them and what Ol Pejeta is doing to try and save this subspecies. Lunch/Dinner & Overnight Ol Pejeta Conservancy

Day 6- Sweetwaters to Lake Nakuru National Park
Today the safari proceeds to Lake Nakuru National Park - one of the Rift Valley's soda lakes and famous for its flamingos but also here you will have a good chance to see both white and black rhinos which are rare in other areas. Lake Nakuru means "Dust or Dusty Place" in Maasai language. You will drive along the escarpment where you will stop to enjoy the stunning view over the Great Rift Valley. Arrival end morning, check in at the camp/lodge and enjoy lunch . Afternoon game-drive. Dinner & Overnight Lake Nakuru National Park

Day 7 - Lake Nakuru National Park - Lake Naivasha
Early morning game-drive followed by breakfast at the camp - continue to Lake Naivasha - one of the fresh water lakes at the Great Rift Valley. Check in at one of the lodges along the lake shore and enjoy lunch. Afternoon we have different options. You could relax and enjoy the beautiful gardens where antelope, giraffe, zebra come and graze. A boat ride on the lake where you will see lots of birdlife and hippos or a visit to Hells Gate National Park which is named after a narrow break in the cliffs. Dinner & Overnight at one of the lodges along the lake.

Day 8 - Lake Naivasha- Nairobi
Enjoy a relaxed breakfast, departure from Naivasha mid morning. Drive via Limuru back to Nairobi. Visit Kiambethu Tea Farm, which gives you an insight into the life of an early English settler farm. Mr Mc Donell bought the farm in 1910 and was one of the first farmers to grow and sell tea commercially in Kenya. Teas is now one of Kenya's largest exports. The farm is currently run by his granddaughter Fiona who will welcome you with a tea talk followed by a walk around the tea plantation. Enjoy a delicious home made lunch in the beautiful gardens surrounded by an indigenous forest, home to the Colobus monkey. The safari finishes in Nairobi in the afternoon.
---